Bali is the Hindu capital of Indonesia 🙂 Though it is an Islamic country but this town of it is known for Hindu population .In the last decade Bali tourism has developed a lot. It gave a new shape to the economy and wealth of the Island . This Island is considered as the second home for Australians . Not Only Australians but also Indians , Chinese and Europeans loves to visit the island .If you also wish to visit the island then you must read the full article where we have given 201 things to be considered before booking a Bali holiday package
Table of Content of Article 201 things to be considered before booking a Bali holiday package
201 things to be considered before booking a Bali holiday in 2021.
Important facts of Bali tourism in general
Bali Airport's name is Ngurah Rai International Airport which is in DPS (Denpsar)
Bali Airport is very near or one can say in the city
One can easily hire a cab from the Airport after arrival from Airport
Though hiring a cab after arrival is very easy but it is always recommended to get it booked before arrival , no one would want to negotiate with drivers after a long flight
Ngurah Rai International Airport is not too big and one can easily understand the navigations to gates , arrivals or exit
One can exchange currency easily at Bali Airport
One should always have Indonesian Rupiah if arriving Bali
Exchanging currency at any airport will be an expensive affair , it is always recommended to exchange currency from local vendors of your town
One can buy tourist sim card at Bali airport for Incoming , outgoing and Internet .Though getting sim card at airport can be an expensive thing to do as you can easily get a new sim card activated from local vendors in the market
One can easily hire a full day 10 hours cab for tours from hotels or local vendors
One should very well know that using Public washrooms in Bali is not free and might cost you a dollar or 2 🙂
Napey day is a big festival in Bali , one before booking flights should always check that dates are matching with Napey day . All tourist activities including Restaurants are closed for at-least 48 hours .No one even speaks on this day
It is always recommended to get the cars booked from before otherwise on the moment drivers ask for almost double the amount
The main tourism prone areas of Bali where one can reserve accommodations for comfortable stay are –

Kuta
Benoa
Seminyak
Denpsar
Legian

All above provinces /areas are not far from each other except Ubud which is far
Kuta is an area full of budgeted hotel properties with few exceptions
One can easily get vegetarian food in Kuta
Kuta is famous for Waterbom water park
Waterbom is a world famous water park where one can enjoy water rides
One can spend a full day enjoying the rides
Meals are available inside the waterbom premises
There are different packages of water bom depending on rides starting from 60 USD per person
These water slides are of various varieties starting from Mellow level for kids to extreme level for thrillers
One can get a good discount on group booking of Waterbom
Kuta beach is also a popular place to spend time
If staying in Kuta one can walk to the beach and spend some good time in the evening after the completion of tour
Discovery Kartika Plaza mall in Kuta is the biggest mall of Bali
Few Indian restaurants in Kuta are –

Ganesha ek Sanskriti
Spice mantra Indian Cuisine
Bollywood masala's

Few Chinese restaurants in Kuta are –
Few Indonesian restaurants in Kuta are –
Kuta Art Market is the most famous market of Kuta where one can get Art and craft products
Barong Dance is also an exotic experience to see in Kuta
Benao is almost 7-8 kms away from Kuta
It is popular for its adventurous beach where you are most likely to do the water sports activity
Jet Skii , Banana Boat , Snorkelling , Parasailing , Scuba Diving and Flying boat are mostly the activities to do there
There are many different vendors offering water sports activities there
These vendors try to loot tourists by asking 10 times the cost
It is always recommended to get the water sports activity booked in advance through tour operators
While parasailing always opt for Double , though it is expensive but is safe against winds
In case one has opted for Single parasailing vendors to grab more money out of tourists pocket deny to to provide the service by giving an excuse of heavy winds .The sure sort way to ignore this issue is to get Double parasailing booked for you
You might get changing rooms around but dont expect those to be clean as in Europe or Australia
There are also few beach resorts in Benoa that can offer awesome experience to tourists
Seminyak is almost 10 kms from Benoa and around 6-7kms from Kuta
Seminyak is a party place of tourists
Potato street in Seminyak is a famous place of Australians and Europeans
Few Late Night Clubs /Bars of Seminyak are –
There are Hotels in Seminyak where mostly Australians and Europeans stay for happening night life and food options
There is another part of Seminyak also which is not happening
There are good private pool villa's built in the not so happening part of Seminyak for relax and peaceful time for tourists
Few places to see in Seminyak are –

Pura Petitenget Temple
Santo Mikael Church
Seminyak Beach
Oberoi Flea Market
Seminyak Square

Denpasar is almost 8 kms from Seminyak , around 9 kms from Kuta and almost 15kms from Benoa
Few Places to see in Denpasar are –

Upside down
Sakenan Temple
Pura Agung Jagatnatha
Bali Museum

There are few good Hotels in Denpasar Kuta and Seminyak are always recommended
Bali's Jail is also located in Denpasar
Legian is almost 7kms from Denpasar , 3.2 kms from Kuta ,10kms from Benoa and around 2 kms from Seminyak
Legian is also considered to be the middle point of Kuta and Seminyak
There are few good 5* resorts in Legian
Legian beach is quite beautiful and exotic experience
Nusa Dua is almost 14kms from Legian , 10 kms from Kuta ,15 kms from Seminyak ,16 kms from Denpasar and 7 kms from Benoa
Nusa Dua is specially popular for its 7* beach resorts and rich classy crowd
Some resorts in Nusa Dua are quite expensive
Few places to see in Nusa Dua are –

Nusa Dua Beach
Geger Beach Nusa Dua Bali
Museum PASIFIKA
Golf Club Nusa Dua

Hardy's mall is the shopping centre of Nusa Dua where one can look for Souvenirs also
Few famous resorts in Nusa Dua are –

Westin Nusa Dua
Grand Mirage
Grand Hyatt
Hilton Nusa Dua

Jimbaran is 12kms away from Kuta , 10 Kms from Nusa Dua and 15 kms from Seminyak
Jimbaran is famous for Jimbaran Beach
It is very near to the Nagurai Airport Bali
It is a fishing Hub of Bali
It is very important to choose a Hotel which is far from Jimbaran fish market otherwise you shall be ready to cope-up with smell of raw fish
There are many Hotels , resorts and Pvt pool villa's in Jimbaran that offers amazing experience
There are good food restaurant options in Jimbaran, though before choosing Hotel/resort food preference should be considered
Uluwatu is almost 15 kms away from Jimbaran , 25kms from Kuta , 27kms away from Seminyak and 15 kms from Benoa
Uluwatu area however was not developed or considered by tourist few years ago but now is becoming favourite among tourists
It is becoming favourite among tourist with the construction of Garuda Wisnu Kencana Cultural Park
Here there is a statue which is designed to be Indonesia's tallest statue
One can spend a full day here and be amazed with the art and architecture of modern era
Uluwatu is also famous for charming and amazing Uluwatu temple
This temple is on the cliffs and gives an awesome view of ocean
Kecak dance uluwatu is also very famous activity that people love to see in Bali
One should wear long dresses like sarong , long skirts or even jeans are ok
There are other beautiful and amazing beaches near Uluwatu –

DreamLand beach
Padang Padang beach
Suluban cave beach
Balangan Beach

There are lots of Villa's and resorts built in Uluwatu
Sanur is almost 30kms away from Uluwatu , 13kms from Kuta , 16kms from seminyak and 17kms from Benoa
Sanur though underrated but is a good area to explore
Sanur is harbour which connects bali from other small island near by
One is transferred to other island on Speed boats and ferry's
Sanur has also got good Resorts or accommodations to stay
Sanur beach is quite popular among tourists
Ubud is almost 28kms away from Sanur ,38kms from Kuta ,37 kms from Airport ,54 kms from Uluwatu and 39 kms from Benoa
Ubud is an Isolated but popular place among tourists
Ubud is mostly famous for PVT pool villa's built in lush green forests and rice fields
One can see big Lizards in the hotel rooms or outdoor areas
There is no nightlife in Ubud
People usually comes back before dark to hotel rooms
Ubud is totally safe but quite isolated
One can get glimpse of Hindu culture in Ubud
Few places to see in Ubud are –

Ubud Art and Craft market Silk and Mass
Kintamani Ubud Volcano
Monkey Forest
Bali Safari marine Park
Bali Bird par
Tukkad Waterfall
Holyspring Temple
Tegenungan waterfall
Mt Batur
Coffee Plantation
Campuhan Ridge walk
Gate of Heaven (Lempyang temple)
Trita Emphul Temple
Ubud Swing
Elephant cave
Royal Palace cultural night performance

One can hire 2 wheeler from Hotels or vendors but with existing international license .
Before Booking accommodation in Ubud one should be fully sure about staying in peace and isolation .
Silk and mass is a good place to explore but your cab driver might have a deal with vendors there ! Dont let cab driver force you to spend more time at the market
Vendors might give you a deal of Kintamani tour with Lunch , it should be noted that the lunch buffet at Kintamani volcano is not upto the mark as per the hygiene standards, it is always better to have food on your own at a good restaurant
At Monkey forest monkeys are very familiar but on the same time dominating . If you think that you can handle the touch of monkey's only then plan to visit there
These monkeys are long tailed and is rare
Coffee Plantation is an awesome place if you are a coffee lover
One might not like the taste of coffee but experience is impeccable
Bali Safari marine park is one of the most popular tour of Ubud as well as of Bali
One can spend a full day here as per the entry packages
There are few packages which offers meals with elephants or other wild animals
There is Mara river Safari lodge where one can book a stay near or connected to wild safari park
Gate of Heaven (Lempyang temple) is becoming very popular among travellers !People love to click and post the pics around this gate
Ubud Swing is also becoming Bali sensation on Instagram , people are loving swing activities and picture clicks here
Other Important tours of Bali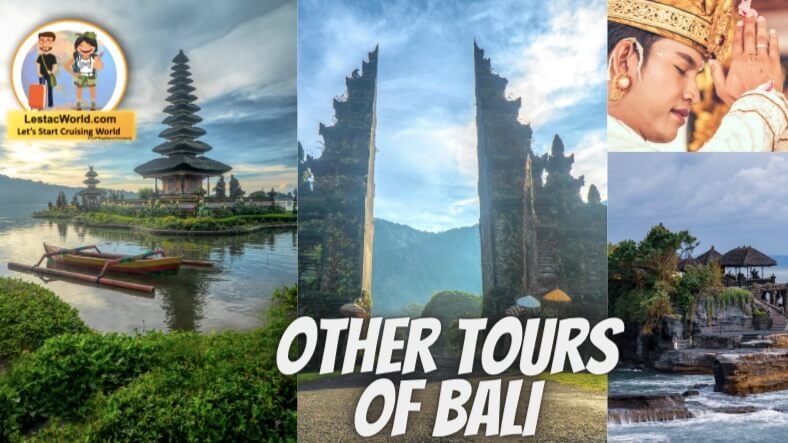 Other Important tours in Bali are –

Tanha Lot Temple
Ulun Danu Temple
Handara Gate temple
Baisakh Temple
Lovina beach
Gitgit waterfall
Air Panas Banjar hot spring
Dolphin Spotting
BanyuMala twin water falls
Munduk waterfalls
Bounty Cruise

Tanha lot temple has become the symbol of Bali tourism in last decades
Every 3rd picture on internet about Bali is of Tanha Lot Temple
It is another temple on the ocean which gives a beautiful experience and picturesque location
Tanha Lot temple is almost 21 kms from Kuta , 43 kms fro Uluwatu and 33 kms from Ubud
Another temple which is near to Tanha Lot is Ulun Danu temple
There are different Ulun danu temples around Bali and this one is most visited by tourists
Near to Ulun danu temple there is Handara gate which is also becoming one the favourite spot for tourism
Baisakh temple is the area of Mt Agung which is a Volcano that erupted in 2017:)
Baisakh temple is quite beautiful and is at a distance of 65 kms from Kuta
Lovina Beach is one of the most amazing beach you will see in Bali
It is 87 kms from Kuta and 72 kms from Ubud
The way from Kuta or Ubud to Lovina is quite Isolated
One can also do Dolphin Spotting near to Lovina beach
Bounty cruise is a queen of cruises of Bali
It provides Dinner service in the evening as well as Day cruise tour in the morning to Lembongan island
This cruise departs from Sanur which is a harbour that connected many islands
One can experience cultural dances in the cruise
The dinner served will be a Chinese buffet
though it is called a romantic experience but one should not expect such from it
There will be red plastic chairs for audiences who can fill the plates and sit on chairs to have their meals
Things to be considered before visiting islands Near Bali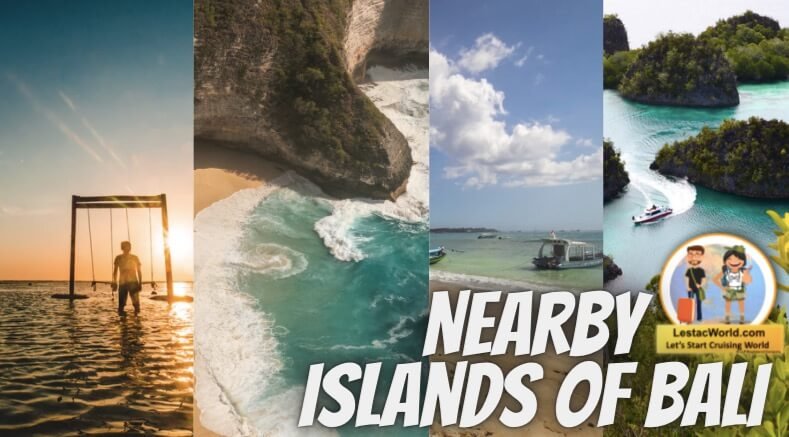 Few important tourist Islands near Bali are –

Nusa Penida
Nusa Lembongan
Gili Island
Raja Ampat

Nusa Penida was not so famous until 2016 but its popularity Started increasing when internet bloggers and nomads showcased the beauty of it in front of the world
Nusa Penida's beaches are quite awesome and unexplored
One can have an experience of Scuba diving in the beautiful marines of the island
One can travel from Sanur in Bali to Nusa Penida
There is a tourism fee of almost 5 USD to enter the island
One can get glimpses of culture of Indonesia in Nusa Penida island
Though it is not much developed but investors has starting building hotels and resorts here
There is No Nightlife in Nusa Penida Island
Mostly people do a day trip to Nusa Penida and comes back in the evening
If one wants to stay , 1 night is more than enough to explore the island
One needs to be picked up from Hotel early by 7 in the morning to catch a ferry to Penida
It is always better to get the tour booked with the vendor in advance to be safe from paying more
Nusa Penida oceans are the Hub of Jelly fishes which sometimes also become head ache for tourists
Speed boat from Gili can be caught from Padag Bai port of Bali
It almost takes 1:30 hours to reach to Gili from Bali
It is important to keep in mind to book fast boat only to travel to Gili
There are 3 islands in Lombok

Gili Air
Gili Memo
Gili Trawangan

There are no boats from Gili to Bali in the evening after a certain time
There are no motor vehicles in Gili , if there are some those are exceptions for locals
From Gili port to Hotel one has to hire Cidomo(Horse cart) as there are no cars
Cycle is the popular source of transportation in Gili
Gili Trawangan is the party Island where one can do most of the activities
Night life in Gili trawangan is quite popular
Though it is an Muslim majority Island but Booze is still allowed here
There is one Mcd in Gili island
Gili islands are famous for water sports activities
These are also famous for Big and turtles around
Out of 3 , Gili Trawangan is the most developed island where one can get good resorts
In 2018 it was struck with earthquake with an Tsunami alert
People usually loves to spend 2 nights in Gili
One needs to be picked from Kuta or Ubud in the early morning 7
If tour is properly planned , it can become an inexpensive affair for you
Lembongan is another Island for which one can board ferry or cruise from Sanur port
The most popular way to travel to Lembogan is through Bounty cruise
This cruise includes Slides , on Stage performances, lunch and water sports activities
It takes you to Lembogan island where one can enjoy the activities at shoreline, spend awesome time and have barbeque
The cruise will drop one back to Bali max by 5 PM
One can also travel to Lembogan from Bali via ferry
1 Night is enough if one wants to stay in Lembogan island
Lembogan island is semi developed and one can find good budgeted resorts here
Compared to Gili one wont get good nightlife in Lembogan
Gili is famous for nigh life , Penida is famous for natural beauty and Lembogan is popular for water sports activities , in short
Raja Ampat is another unexplored island which can be clubbed with Bali
It is not as developed as other islands near to Bali
It is almost a 7-8 hours ferry ride from Bali to Raja Ampat
No good Hotel chains and restaurants has yet reached to this Island
It comprises of 1500 small islands
Candle Light Dinner facts before Booking Bali Holidays
There are variety of candle light dinner options in Bali and why not it is the romantic gateway destination for couples
Prices for Candle light dinners starts from 10USD until 1000 USD depending upon your budget
Vendors mostly offer beach candle light dinners however most of those are not upto the mark as they were only included for name sake in the quote to attract people for Booking
Budgeted good candle light dinners can easily be done at Beach resorts with awesome ambience around and yummy food.
Some of the beach properties where you can experience candle light dinners in good ambience are –

Westin Nusa Dua (Indian Cuisine is a must try)
Sadara beach resort (Awesome non vegetarian dishes)
Grand Mirage beach resort

One can also have candle light dinners in Villa's around the PVT Pools
The best part of having candle light dinners in Villa is mostly you can get the menu prepared as per your own preferences
Beware of places where they will make you sit in a restaurant with kids all around , having few roses on table and a candle . Yes they call it romantic
Important points related to Covid to be considered before booking Bali Holiday package –
One should always follow the general rules like Wearing a mask and keeping social distancing
It is very important to choose a not too cozy accommodation for the tour , there must be good ventilation in hotels and rooms
One should always choose an accommodation where staff and management is professional , one should never take risk of staying at a hotel where no professionalism is being applied
One can always check genuine reviews of hotel before deciding on it
One should not eat anything from anywhere while on tour, proper restaurants and chains should be chosen for having a meal
There are many tours in bali where they will give you an option of SIC transfers (Seat in Coach) in other clearer terms Shared transfers which should totally be ignored at least in 2021
Private cabs in bali comes in Budget without giving extra load to the pocket
Before indulging into activities like Scuba and Snorkelling it should be assured that the masks and equipments are properly sanitised after every use , if there is even a single doubt better leave the option of doing it
Ignore entering into night clubs where there is a lot of crowd , if can't control the freak inside you better wear mask and gloves
Before even travelling to any country other than Indonesia also , it should be on your priority list to get your insurance done with trusted insurance company which provides their services in Bali also
It is always better to examine yourself before travelling to any other city country , if you are suffering from underlying deceases like diabetes or Kidney then it always better to postpone the travel until situation gets better.
Always be updated with WHO guidelines before travelling to any destination in the world
These were 201 things to be considered before booking a Bali holiday package , we pretty sure that once you will read these points you will get clear Understanding of Bali as a destination
Some frequently asked questions on Bali destination
Is Bali open for tourism in 2021?
Until 31st December 2020 , Bali did not open for tourism but is expected to be open any time soon between the months Jan 2021 to March 2021.
Also read – When Bali is opening for Tourism ?
What is the procedure for getting tourism Visa for Bali ?
Tourism visa for most of the countries is on Arrival .One Just need to arrive Bali with confirmed Hotel and return Air ticket. You will get a visa for 30 days .
Post Covid, rules might change and will be updated as per notification here
Check if your country is in on arrival country list
Is Bali medical infrastructure good enough to handle Covid 19 cases ?
Bali's medical infrastructure is improving but compared to western countries does not have good ranking. It is always recommended to not to travel away from home if one is already suffering from underlying decease .
Is Bali Expensive ?
Indonesia's currency is very low as compared to other Asian Countries also but that does not mean that Bali is very cheap . As water bottle may cost 50 cents to 1 dollar .
Yes as compared to European , Caribbean and American countries Bali is very inexpensive.
It is better to book Bali on own or one should use travel agency services ?
Bali can be pretty easy to book on own but there are few loopholes which can convert your trip into unwanted mess . Sometimes a professional travel executive can make it effortless and hassle free in the same price .
Does LestacWorld arrange packages for Bali ?
Yes , we are a service and knowledge providers and connects tourists with Vendors that can help passengers managing a hassle free trip.